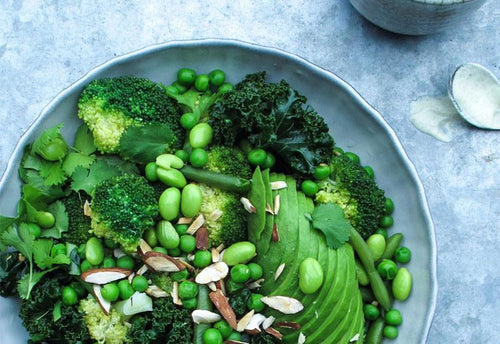 Super Green Bowl with Moringa-Cashew Sauce
A big 'Super Green Bowl' like this one always hits the spot when we're feeling in need of some extra nourishment. The vibrant vegetables don't need much adornment but the simple garnishes of fresh herbs, toasted almonds, avocado and a Moringalicious creamy cashew sauce take this dish to the next level. 
Serves 1
Ingredients:
2 tbsp water
1/2 tsp nutritional yeast
2 pinches
arabian baharat spice mix
Green Bowl:
1 small head of broccoli, chopped
1 cup kale leaves, stems removed
1 handful peas
1 handful edamame
1 handful green beans
1/2 avocado, sliced
1 handful fresh coriander
2 tbsp toasted, chopped almonds
Method:
For the sauce, rinse and drain cashews. Add to a blender with the other ingredients and blend until smooth.


For the bowl, start by steaming the broccoli florets for 5 minutes. Then add all the other ingredients to the steam basket and steam everything for approx. 5 minutes over high heat.

The vegetables should be a vibrant green and still a little crisp.


Arrange the vegetables in a bowl, garnish with the avocado, coriander and almonds and drizzle generously with the sauce.
Enjoy!
Recipe by Tasty as Heck