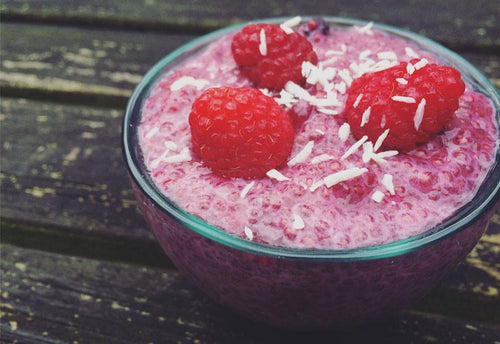 Raspberry, Baobab & Coconut Chia Pudding
Now spring is on its way we're beginning to crave light and fruity breakfasts again and this gorgeous recipe from Aduna Feel Good Triber The Zesty Lime fits the bill perfectly. With a few simple ingredients, a little sweetness from berries and baobab and plenty of nourishment, it would make a great anytime snack or dessert too. 
Serves 2
Ingredients:
1 cup coconut milk
1/2 tsp pure vanilla extract
3-4 tbsp chia seeds
2 tbsp homemade raspberry compote (see below)
1 tbsp unsweetened desiccated coconut + more to garnish
Fresh raspberries
Method:
Raspberry compote:
Place 1-2 handfuls of fresh or frozen raspberries in small pan and simmer over medium heat. Add about a tablespoon of water to help the raspberries cook down faster, and if you prefer the compote sweeter, add 1-2 tsp of maple syrup, honey, or agave nectar. Simmer for  5-10 minutes until the fruit has softened and thickened to a jam-like consistency. Leave to cool while you make the chia pudding.
Chia pudding:
Combine the coconut milk, vanilla extract, desiccated coconut, and baobab in a bowl and whisk together well.


Next, gradually add the chia seeds to the liquid, pouring them in slowly while whisking to avoid clumps. Keep whisking until the mixture begins to thicken a little.
Add your raspberry compote, stirring in well to turn the pudding completely pink, or simple swirl the compote through the pudding for more of a ripple effect. Feel free to add more than 2 tbsp if you like.


Place the chia pudding in the fridge to set for at least an hour, or overnight.
When you're ready to eat, scoop the pudding into bowls, garnish with fresh raspberries and a sprinkling of coconut.
Enjoy!