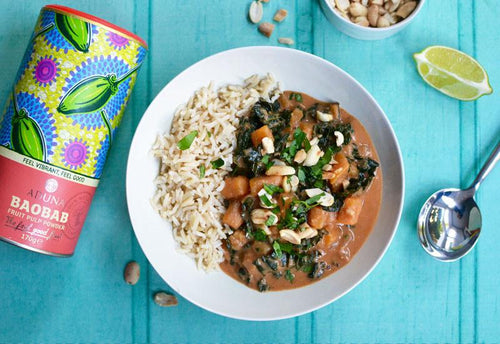 African Baobab & Peanut Stew
Peanut stews are traditional across West Africa and originally were made with native groundnuts before peanuts were introduced from the New World. This version is doubly African-inspired with the addition of our baobab powder which gives a subtle tang and balances out the rich & spicy flavours. We like ours thick and served over rice but you can also thin it out with extra stock to turn it into a soup.
Serves 2-4
Ingredients:
1 tbsp
Aduna Baobab Powder
1 tbsp coconut oil
1/2 red onion, diced
2 cloves garlic, minced
1" fresh ginger, peeled and minced
1/4 tsp salt (you might need more if your peanut butter is unsalted)
dash of cayenne powder
1/2 tsp ground cumin
1 medium sweet potato, chopped into 1/2" cubes
2-3 cups vegetable stock
1 tbsp honey
2 tbsp tomato paste
1/4 cup smooth, natural peanut butter
3 cups roughly chopped kale or Swiss chard 
brown rice to serve (optional)
roasted peanuts (optional)
Method:
Add the oil to a saucepan over medium heat,  add onion and sauté for 5 minutes.

Add the garlic, ginger, spices and salt and continue to cook for a couple of minutes.
Add the sweet potato, vegetable broth and honey and bring to the boil. Reduce heat to a simmer, add the peanut butter and tomato paste and simmer for 15-20 minutes.
Once the sweet potatoes are soft, stir in the kale and cook until wilted.
Remove from the heat and stir in the baobab powder. Check for seasoning. 
Serve over brown rice (if desired) and top with chopped roasted peanuts.
Enjoy!
Recipe by Aduna