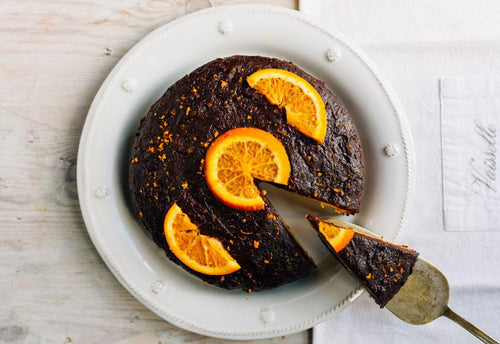 Almond & Orange Cake With Chocolate Orange Frosting
Using another classic flavour combination of chocolate and orange, this cake is light, spongy and the perfect afternoon treat to enjoy with a cup of tea.
Serving(s) 10
Ingredients:
For the cake:
6 eggs
125ml brown rice syrup or honey
1 tsp vanilla powder
zest of 2 large oranges
1 1/2 cup almond flour
For the icing:
2 tbsp Aduna Super-Cacao Powder
100g almond butter
1 1/2 tbsp coconut oil
1 tbsp honey
zest & juice of 1 large orange
Method:
Preheat the oven to 180°C. Separate the eggs into yolks and whites. In a bowl, whisk the yolks together and add in the brown rice syrup and vanilla powder whilst stirring continuously. Next, add in the orange zest and almond flour whilst again stirring the mixture continuously.
Whisk together the egg whites until they form stiff peaks & pour them over the egg yolk mixture. Fold until fully combined and transfer to a lined cake tin. Bake in the oven for 40 minutes.
To make the icing, mix all the ingredients together in a bowl or a blender. Once the cake has cooked, leave to cool completely before spreading the icing over the top. Garnish with caramelised orange slices.
Enjoy!
Recipe by Aduna