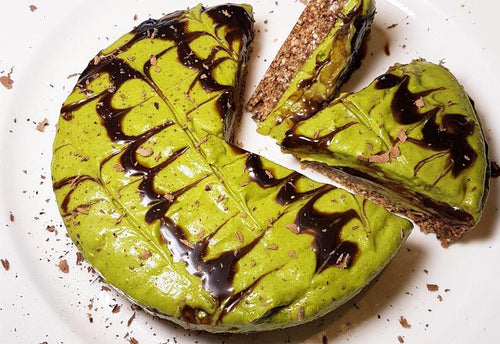 Raw Avocado, Lemon & Moringa Tart
This Raw Avocado, Lemon & Moringa Tart is the perfect dessert for your summer party or picnic. With a crunchy choco-nut base and silky, smooth layers of creamy avocado, zesty lemon & dark chocolate, this sweet treat will definitely have you going for seconds!
Serves 6-7
Ingredients: 
For the base:
50g coconut oil 
100g dates, pitted
65g almonds
30g dessicated coconut
30g dark chocolate chunks
For the filling: 
1 tbsp Aduna Moringa Powder
3 ripe avocados
juice & zest of 1 lemon
50g maple or agave syrup
pinch sea salt
1 tsp vanilla extract
vegan chocolate sauce, to top  
Method:
Place the almonds in a food processor and pulse until they have broken down into small pieces. Add the rest of the ingredients and blend again until the mixture is fully combined and sticky.
Tip into a 7" loose base tin and use your hands to press the mixture firmly and evenly down. Pop in the freezer while you prepare the filling. 
To make the filling, place all the ingredients except the chocolate sauce in a blender and blend until you have a smooth, creamy mixture. 
Remove the base from the freezer and pour over half the avocado mixture. Spread evenly using the back of a spoon, then drizzle some chocolate sauce over. Pour the remaining avocado mixture on top, then decorate with more chocolate sauce. Pop back in the freezer for 2-3 hours to set. 
Remove from the freezer and let the Tart defrost for 20 minutes. Gently press the tart out of the tin and place on a plate. Grate more dark chocolate on top to decorate and allow to defrost for another half an hour before serving. 
Enjoy!
Recipe by aaroncaldervegan