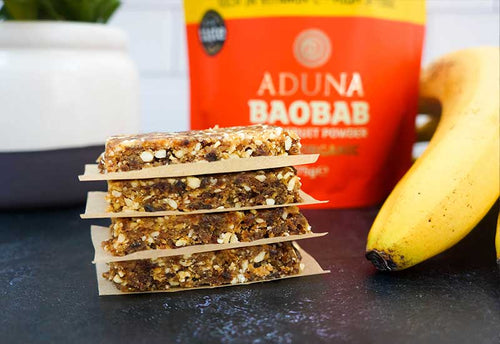 Banana Boost Energy Bars
An irresistible feast of chewy, banana-y goodness - made with dates, almonds and cashews and super-charged with African baobab fruit. It's the perfect pre/post workout snack!
Makes 12 bars or 24 energy balls
Ingredients:
4 tbsp Aduna Baobab Powder
180g cashews
120g dried banana
120g dates
15g almonds
2 tsp water
Method:
Add all the ingredients into a high-quality blender and mix until it forms a fudge-like texture.
Transfer the mixture into a tray lined with greaseproof paper and flatten so it's approximately 1cm thick (alternatively, you can divide and roll the mixture to create energy balls).
Refrigerate for at least 1 hour and then cut into bars.
Enjoy!