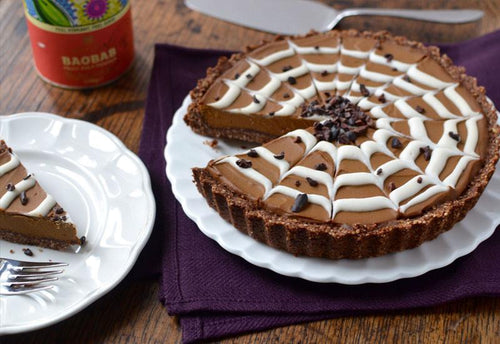 Baobab & Cacao Pumpkin Tart
Everyone loves a treat on Halloween but we can still indulge without the refined sugar! This spooky superfood tart is ultra rich and indulgent and made only with whole foods and our baobab powder for an extra nutritious twist. Pumpkin purée adds a lovely creamy texture - and is of course in abundance at this time of year! 
Serves 12-14
Ingredients:
Crust:
2 cups almond meal (almonds ground in a food processor)
2 tbsp ground flax seed
2 tbsp maple syrup
1 1/2 tbsp Aduna Super-Cacao Powder
2 tbsp melted coconut oil
pinch of salt

Filling:
1 tbsp Aduna Baobab Powder
1 1/4 cups tinned pumpkin purée
3/4 cup melted coconut oil
1/2 cup Aduna Super-Cacao Powder
1/2 cup maple syrup
1 tsp vanilla extract
pinch of salt
Spiderweb:
1 1/2 tbsp melted coconut oil
2 tbsp melted coconut butter
1/2 tbsp maple syrup
2 tbsp non-dairy milk
Method:
Preheat the oven to 180C and lightly grease a 7-8" tart tin with coconut oil. Add all the crust ingredients to a bowl and stir well to combine. Press the crust evenly into the prepared tin and bake for 15 minutes, until crisp. Set aside to cool.

Blend all the filling ingredients together in a high-powered blender or food processor. Pour into the cooled tart crust and smooth out the top with a spatula (You may have a little extra filling. Just pour it into ramekins for rich chocolate pots!). 
Whisk or blend together the ingredients for the spiderweb and spoon into a piping bag or a freezer bag with the corner cut off. Pipe the topping in a swirl over the tart and use a toothpick to create a spiderweb design. Place in the fridge to set. 
Remove from the fridge 20 minutes before serving.
Enjoy! 
Recipe by Coconut and Berries