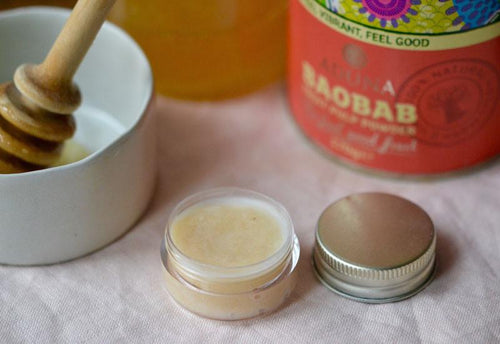 Baobab, Coconut & Honey Lip Balm
This heavenly combination of coconut, baobab, honey and vanilla conditions and nourishes the lips whilst forming a protective layer, enabling the delicate skin to lock in water and stay hydrated and smooth. 
Baobab - an antioxidant powerhouse containing high levels of collagen forming Vitamin C, helping keep lips looking young and full.
Coconut butter - contains natural soothing and softening properties with an added anti-inflammatory effect which can help to heal cuts and chapped lips. 
Coconut oil - a gentle moisturiser that absorbs quickly to leave lips feeling silky smooth.
Honey - as well as being a natural antibacterial and antiseptic, honey is also a natural humectant (a substance that attracts and retains moisture). 
Vanilla - contains soothing and softening qualities and is rich in antioxidants, making it ideal for repairing rough or damaged lips. 
INGREDIENTS:
1 tsp Aduna Baobab Superfruit Powder
2 tbsp coconut butter, melted
2 tbsp coconut oil, melted
1 tbsp raw honey
dash of vanilla extract (optional)
METHOD:
Stir together all ingredients in a small bowl. Leave for 5 minutes to thicken slightly then pour into small pots or tins.

Refrigerate until firm.

Usage: Smooth onto lips whenever they're in need of a little TLC.
Enjoy! 
Recipe by Aduna