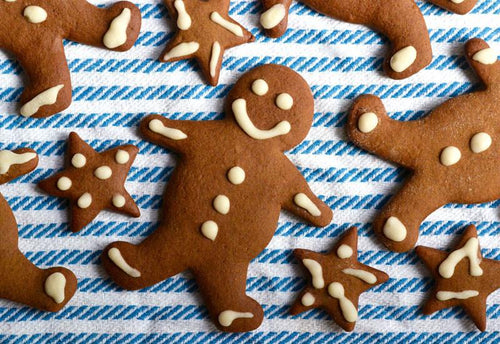 Baobab Gingerbread with Lemon-Baobab-Coconut Icing
Gingerbread cookies bring back memories for so many of us..after-school treats, weekend family baking and of course Christmas! Our version is a little healthier than the classic we might have grown up with - made with wholegrain flour and unrefined sugar - but still just as delicious!  Both the cookies and icing have baobab in too for extra flavour and nutrition. 
Serves 12
Ingredients: 
Gingerbread:

1 tbsp Aduna Baobab Powder
1 1/2 cups spelt flour
1 tsp ground ginger
1 tsp ground cinnamon
1/4 tsp salt
1/4 tsp mixed spice
1/4 tsp bicarbonate of soda
1/8 tsp baking powder
1/4 cup melted coconut oil
1/4 cup molasses
1/4 cup coconut sugar
1 egg
Lemon-Baobab-Coconut Icing (optional - melted dark chocolate also works well for decoration!)
1 tsp Aduna Baobab Powder
3 tbsp coconut milk
3 tbsp coconut butter
1 tbsp coconut oil
1 tbsp lemon juice
1 tbsp honey


Method:
Gingerbread: Add all dry ingredients, excluding coconut sugar, to a large bowl and stir to combine. 
In a smaller bowl, whisk together the coconut oil, molasses and coconut sugar. Whisk in the egg. 
Add liquid ingredients to the dry ingredients and mix well to combine. It will look dry at first but keep mixing! 
Wrap dough in clingfilm and place in the fridge for an hour to firm up. 
Preheat oven to 180C and line a couple of baking trays with parchment paper. 
Lightly flour your kitchen counter and roll out the dough until 1/4" thick. Use cookie cutters to cut out your desired gingerbread shapes and place on the prepared baking sheets. 
Place in the oven and bake for 8-11 minutes. Leave to cool for 5 minutes before transferring to cooling racks to cool fully. Only ice when completely cool!
Icing: Add all ingredients to a small blender or food processor and blend until smooth. Alternatively, add ingredients to a small pan and whisk together over low heat. 
Pour icing into a small ziploc bag, cut off a tiny corner and use as a piping bag to decorate the gingerbread. You will have extra if you just decorate as pictured. 
Enjoy! 
Recipe by Aduna