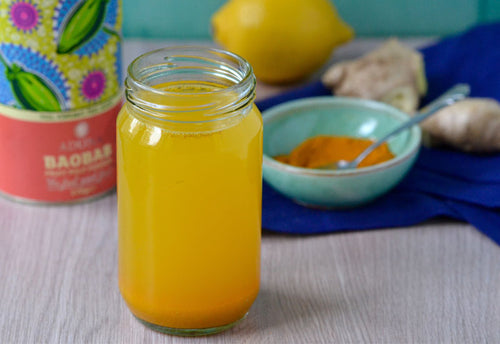 Baobab Turmeric Tonic
This super-charged Baobab-Turmeric Tonic is one of our most popular recipes. Baobab is the most antioxidant-rich fruit on the planet and has 6x the vitamin C of an orange so combined with anti-inflammatory turmeric and classic wellness-boosters lemon, ginger and honey, this is a delicious natural remedy that leaves you energised, immune-strong and ready for anything!
Serves 1
INGREDIENTS:

1-3 tsp Aduna Baobab Powder
1 cup water
1/2 tsp turmeric powder (or fresh if you can get it)
1/2 tsp grated fresh ginger
1 tsp honey
dash of cayenne pepper
juice of 1/2 lemon
METHOD:
Add all ingredients, except baobab, to a small pan and warm over medium heat until nearly simmering, whisking to combine.

Remove from heat, whisk in the baobab and pour into a mug or glass jar to serve.
Enjoy!
Recipe by Aduna