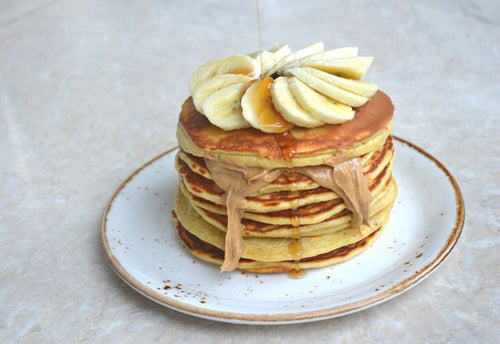 Baobab & Vanilla Protein Pancakes
This is one pancake recipe that's guaranteed to motivate you to get you out of bed! Created by Aduna Feel Good Triber Jon, this super-charged stack is delicious and packed with vitamin C, protein and fibre, keeping you energised and full all the way until lunchtime. 
Serves 2
Ingredients:
1 tsp Aduna Baobab Powder
2 eggs
3 tbsp spelt flour
1 banana
1 serving vanilla whey protein
1/2 tsp vanilla extract
1/2 tsp cinnamon
1/2 tsp ginger
1/2 tsp baking powder
150ml milk (depending on desired consistency)
1 tbsp butter, for the pan
To serve (optional):
1 banana
1 tbsp peanut butter
1 tbsp maple syrup 
Method: 
In a bowl, whisk together the eggs, banana, baobab, vanilla extract, cinnamon, ginger and baking powder until light and airy. Gradually whisk in the whey protein and flour.
Add the milk as and when it is needed in order to maintain your desired consistency.
Heat a pan on a low heat and grease with a thin layer of butter. Pour circles of the pancake batter onto the pan and leave to cook until you start to see bubbles, then flip.
Cook for a further minute or two then set aside. Repeat until all the batter is used up. Top with peanut butter, chopped banana and a drizzle of maple syrup. 
Enjoy! 
Recipe by Healthy Jon