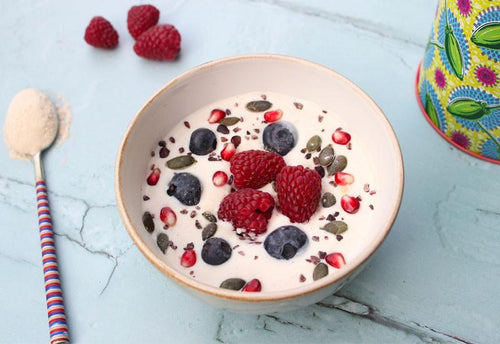 Yoghurt With Baobab & Berries
A simple yet delicious way to super-charge your breakfast. Rich in vitamin C, antioxidants and fibre, baobab will help you to feel fuller for longer and adds a lovely sweet and citrussy flavour.  
Serves 1
Ingredients:
1 tbsp Aduna Baobab Powder
150g plain natural yoghurt (use coconut yogurt for dairy-free option)
1 tsp honey
To garnish: (optional)
1 tbsp pumpkin seeds 
1 tsp cacao nibs
mixed berries (we used blueberries, raspberries & pomegranate seeds) 
Method:
Place the yoghurt in a bowl and stir in the baobab powder. Garnish with your favourite toppings. 
Enjoy!
Recipe by Aduna