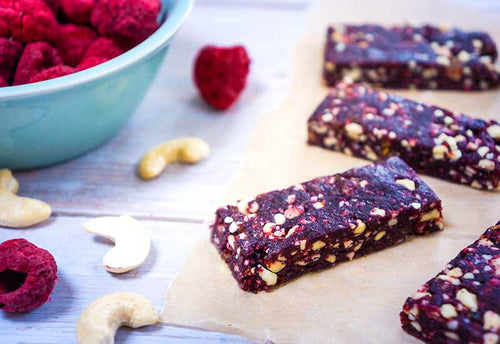 Berry Bite Energy Bars
Bursting with flavour, these bars are made with luscious berries, creamy cashews and supercharged with some flower power. Rich in antioxidants, hibiscus flowers have been used as a medicine in Africa and Asia for millennia… and now you can snack on them after lunch!
Makes 12 bars or 24 energy balls
Ingredients:
2 heaped tbsp Aduna Hibiscus Powder
240g dates
200g cashews
2tsp water
10g freeze-dried raspberries
1 tsp of raspberry flavouring
Method:
Add all the ingredients into a high-quality blender and mix until it forms a fudge-like texture.
Transfer the mixture into a tray lined with greaseproof paper and flatten so it's approximately 1cm thick (alternatively, you can divide and roll the mixture to create energy balls).
Refrigerate for at least 1 hour and then cut into bars.
Enjoy!