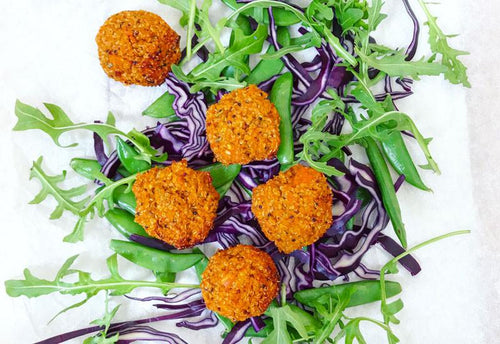 Butternut Squash, Quinoa & Baobab Falafel
Whether you are vegan, vegetarian or indifferent, falafel is the perfect portable lunch option. This delicious recipe combines nourishing butternut squash with protein-rich quinoa and a healthy dose of baobab powder for that all important vitamin C, fibre and antioxidant boost. Serve with houmous and veggies for a nutritious lunch option or alongside your favourite dip as a tasty snack.
Makes 12 
Ingredients:
1 tbsp Aduna Baobab Powder
1 medium butternut squash
250g cooked quinoa
1 tbsp olive oil
1 clove garlic, crushed
1 tsp smoked paprika
1/2 tsp sea salt
1/2 tsp cumin seeds
juice of 1/2 lemon
leaves from a sprig of rosemary, finely chopped (optional)
black pepper, to taste
Method:
To roast the butternut squash, preheat the oven to 180C. Cut the butternut squash in half, scoop out the seeds and brush the squash with a small amount of oil. Roast in the oven for 30-40 minutes or until it's completely cooked. Measure out 300g of the butternut squash flesh and mash with a fork.
In a large bowl, combine the mashed butternut squash with the rest of the ingredients and mix well. Take a tablespoon of the mixture and using your hands, form it into a falafel. Repeat this 12 times until there is no more mixture left. Place the falafel on a baking tray and cook for 45 minutes or until the tops are beginning to brown. Serve hot or cold.
Enjoy!
Recipe by Wholefood Warrior