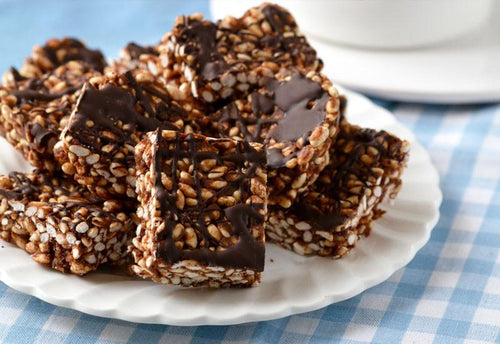 Chocolate Almond Butter Crispy Squares
Who doesn't love a good crispy treat! Sweet, chewy and chocolatey, they're a hit with all ages. When we were younger we made them with melted Mars bars but have managed to come up with a much healthier version that still tastes just as indulgent. This recipe uses natural nut butter, unrefined sweetener and our Super-Cacao Powder, along with our friends at Rude Health's amazing puffed brown rice. 
Serves 12
Ingredients:
1 1/2 tbsp Aduna Super-Cacao Powder
3/4 cup almond butter/natural peanut butter
1/2 cup brown rice syrup or honey
1 tsp vanilla extract
2 1/2-3 cups Rude Health Puffed Brown Rice
good pinch of salt (if nut butter is unsalted)
1/4 cup chopped almonds
Chocolate Topping:
1/3 cup Aduna Super-Cacao Powder
1/3 cup coconut oil
2 tbsp maple syrup
pinch of salt
Method: 
In a medium saucepan over low heat, melt together the almond butter, brown rice syrup, vanilla and salt.

Sieve in the cacao powder and stir until combined.

Place the puffed brown rice into a large bowl - start with 2 1/2 cups as you can always add more. 

Pour the cacao-almond butter mixture over the puffed brown rice and stir to fully coat. If very sticky, add an extra spoonful (up to 1/2 cup more) puffed brown rice. 

Stir in the chopped almonds.

Press the mixture firmly and evenly into a parchment lined baking tin and refrigerate while you make the chocolate topping. 
Chocolate topping: Combine ingredients in a small pan over medium heat until you have a runny chocolate sauce. Leave to thicken slightly for 5 minutes before drizzling over the crispy treats. 
Return tin to fridge to firm up for at least an hour before serving. Cut into squares. 
Enjoy! 
Recipe by Aduna