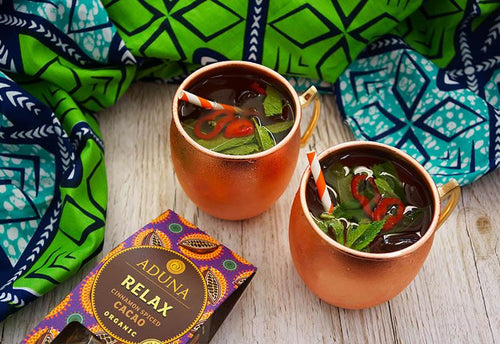 Cacao-Chilli Iced Tea
Sit back and sip on our Cacao Super Tea with a fiery kick. The bizarre yet delicious combo of chocolate and chilli will definitely get your tastebuds tingling!
Makes 1 litre
Ingredients:
2 tea pyramids of Aduna Relax: Cacao Super-Tea
200ml, freshly boiled water
800ml cold water
4 red chillies (add more if you like the heat!)

To serve:
mint leaves
ice cubes


Method:
Pour boiling water over the tea pyramids and red chillies in a heatproof jug and allow them to brew for at least 10 minutes. Remove the tea pyramids, stir and allow the tea to cool before topping up with cold water.

To serve, add ice cubes and garnish with mint leaves.
Enjoy!
Recipe by Aduna