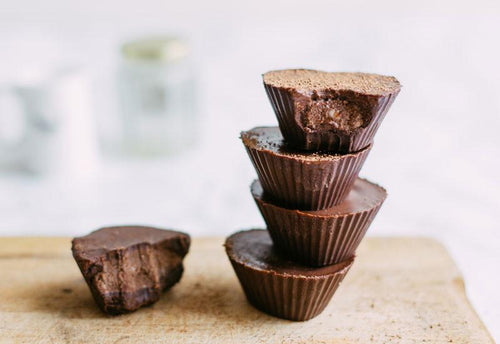 Chocolate Coconut Mousse Cups
Think Reese's style...but better! Made with all the good things; cacao powder, cashew butter and vanilla protein powder, these chocolate and coconut mousse cups are definitely one to try for when those sweet cravings strike. Vegan friendly and protein filled...what's not to love!? 
Makes 5-6 regular cups:
Ingredients: 
For the chocolate layer:
1/2 cup Aduna Super-Cacao Powder
1/2 cup coconut oil
2 tbsp maple syrup 
1/2 tsp vanilla powder
2 tbsp cashew butter
1/2 tsp cinnamon 
1 tbsp vegan vanilla protein powder

For the coconut mousse: 
1/4 cup Aduna Super-Cacao Powder
100g creamed coconut
1/4 cup cashew milk
1 tsp vanilla powder
1 tbsp vegan vanilla protein powder
Method
Place your individual silicon moulds in the freezer to cool.
Melt the coconut oil in a saucepan on a low temperature. Add the rest of the ingredients and whisk until smooth and creamy.
Once melted, remove the silicone moulds from the freezer and coat the inside of them with a layer of the chocolate mixture, spreading it evenly and ensuring the base of the cup and sides are well covered. Repeat for all moulds and place back in the freezer.
After a few minutes, the chocolate should have firmed up so remove from the freezer and repeat this process to form a double layer of chocolate. Place back in freezer.
To make the mousse, place all the ingredients in a blender and blend until smooth and creamy. Once the cups have set, remove them from the freezer and spoon in a couple of spoonfuls of the mousse filling, leaving a bit of room on the top for the final chocolate layer. 
Place in the freezer to set again for around 10 minutes, then remove and pour over the final layer of chocolate. 
Set in the freezer for another 10 minutes, then store in the fridge.
Enjoy! 
Recipe by Aduna