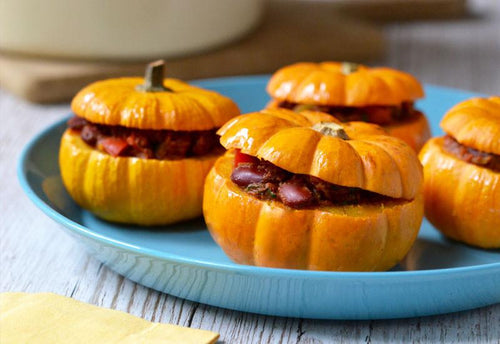 Cacao Veggie Chilli Stuffed Pumpkins
We love carving pumpkins at Halloween but it always seems a shame to see the hollowed out pumpkin unused. Pumpkin tastes great and is the perfect vessel for our cacao-boosted veggie chilli. We used mini pumpkins here but you could also use one large one as an edible serving bowl! 
Serves 4
Ingredients:
2 tsp Aduna Super-Cacao Powder
6 mini pumpkins (or use 1 big one as a serving dish to scoop the chilli from instead)
1 medium sweet potato, peeled and chopped into chunks
1/2 tsp cumin
1/2 tsp cinnamon
dash of cayenne pepper
1 onion, roughly chopped
1 red pepper and 1 yellow pepper, roughly chopped
1 clove of garlic, minced
1 red chilli, minced
1 can of kidney beans
1 can (400g) of chopped tomatoes
salt & pepper
1/2 bunch of fresh coriander, roughly chopped
Method:
Preheat oven to 200C, spread sweet potato chunks on a baking tray, drizzle with olive oil, salt and pepper and roast for approx. 40 minutes. Set aside.
If using, place the pumpkins on a separate try and bake for 20 minutes, until softened. Carefully slice off the tops (these will be the lids) then scoop out the seedy middle. Discard this then set aside the pumpkins to be filled later. 
Meanwhile, add a little olive oil to a large pan over medium heat and sauté the onion, peppers and garlic for 5 minutes. 
Add the chilli and spices and cook for another 5-10 mintues, stirring frequently. 
Add the beans and tomatoes, season well then simmer, covered, for approx. 30 minutes, adding water or stock if it gets too thick. Add the sweet potatoes and cacao powder and cook for a final 5 minutes. 
If using, spoon the mixture into the hollowed pumpkin(s) to serve. 

Return to oven if necessary to warm through.

Enjoy! 

Recipe by Coconut and Berries