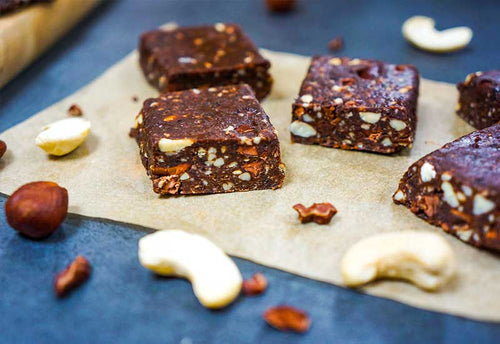 Choco-Nut Bliss Energy Bars
Easy to make and delicious, you can't go wrong with a combination of fruit, nuts and our mood-boosting Super-Cacao. It's the perfect snack to power you through the day!
Makes 24 energy bites or 12 bars
Ingredients:
4 tbsp Aduna Super-Cacao Powder
140g dates
140g cashews
100g raisins
30g hazelnuts
22g cacao nibs
12g cacao butter
2 tsp water
Method:
Add all the ingredients except the cacao nibs, into a high-quality blender and mix until it forms a fudge-like texture. Pour the mixture into a bowl and mix in the cacao nibs.
Transfer into a tray lined with greaseproof paper and flatten so it's approximately 1cm thick. 
Refrigerate for at least 1 hour and then cut into bars or bite sized squares.
Enjoy!