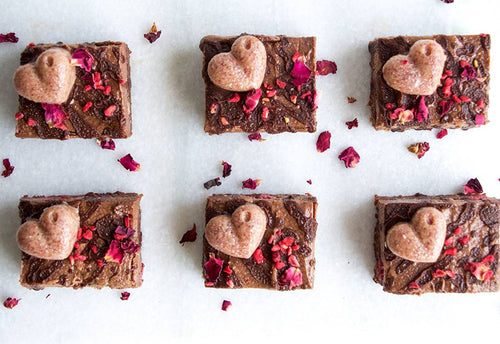 Chocolate & Pomegranate Cheesecake Squares
These vibrant, vegan cheesecake squares use cashews and coconut milk to create a creamy filling that perfectly complements the fresh and tart flavours of the pomegranate seeds and raspberries. The heart shaped chocolate toppers add a luxurious touch to this dessert, making it great for special occasions such as birthdays or even for Valentine's Day. 
Makes 12
INGREDIENTS:
For the base:
1 tbsp Aduna Super-Cacao Powder
1/2 cup oats
1/2 cup almonds
1 tbsp coconut oil
1/2 cup pitted dates
For the cheesecake layer: 
4 tbsp Aduna Super-Cacao Powder
1 cup cashews (soaked for at least 4 hours)
3 tbsp coconut oil
1/2 cup pitted dates
1/2 cup coconut milk
dash of vanilla extract
pinch of sea salt
generous handful each of raspberries and pomegranate seeds
For the raspberry chocolates:
2 heaped tbsp coconut butter
2 tbsp maple syrup
1 tsp raspberry powder
1 tbsp cashew butter
melted raw chocolate to drizzle
METHOD:
To make the cheesecake base, pulse the almonds and oats in a food processor until the mix is a flour-like consistency. Add in the remaining ingredients for the base and blend until everything combines. 
Transfer this mixture into a tray and firmly press down to create a smooth even surface. Leave it in the freezer to set while you create the cheesecake layer. 
In a food processor, blend all the cheesecake ingredients together until smooth and creamy. Sprinkle the pomegranates and raspberries over the cheesecake base, then pour over the cheesecake mixture and return to the freezer, for at least four hours. 
To make the chocolate hearts, melt the coconut butter and cashew butter together and stir in the maple syrup and raspberry powder. Pour into your chocolate moulds and leave in the freezer for two days to fully set.
Once your cheesecakes are ready, slice into squares and drizzle over some melted chocolate, placing a chocolate heart onto each of them- the chocolate should help to hold the hearts in place once it has set. Pop these back into the freezer or fridge to allow the chocolate to set before serving.
Enjoy!
Recipe by Charley's Health