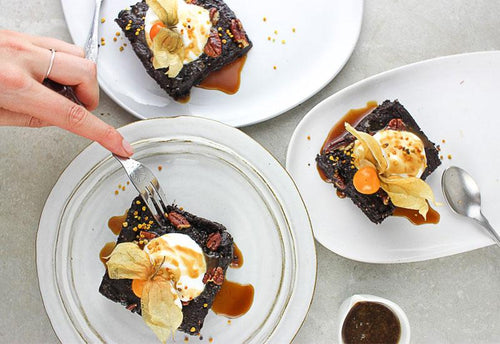 Healthy Chocolate Brownie With Orange & Baobab Sauce
A gooey chocolate brownie with a delicious orange and baobab sauce made from all natural ingredients...what more could you want in a dessert?! Gluten, dairy and refined sugar free, this chocolatey delight is guaranteed to satisfy your sweet cravings and is the perfect way to get your baobab and cacao fix in one! 
Serves 12
INGREDIENTS:
For the brownie:
300g Aduna Super-Cacao Powder
1 cup almond flour
200g cacao butter
3/4 cup coconut oil
3 eggs
1 1/2 tsp salt
1 tsp baking powder
2 cups coconut sugar
2 tsp vanilla essence
For the sauce:
2 tbsp Aduna Baobab Powder
1 orange zest + juice
1 lemon, juiced
1/4 cup coconut sugar
METHOD:
Pre-heat the oven to 175C. 

Mix the almond flour, cacao powder, salt and baking powder together in a large bowl. Slowly melt the cacao butter and coconut oil over a low heat, then remove and add the eggs, coconut sugar and vanilla essence. Mix together until fully combined.

Add both the wet and dry ingredients together and mix until combined. Pour into a lined or silicone baking tray, and bake in the oven for 20 minutes.

For the sauce add all the ingredients, except the baobab, to a saucepan and place over a low heat, whilst constantly stirring. 
After 5 minutes, remove from the heat, add the baobab powder and leave to sit. Remove the brownie from the oven and leave to cool before serving with the sauce. 
*For a gooey brownie, serve whilst still warm. For a firmer brownie, leave to chill in the fridge. 
Enjoy!