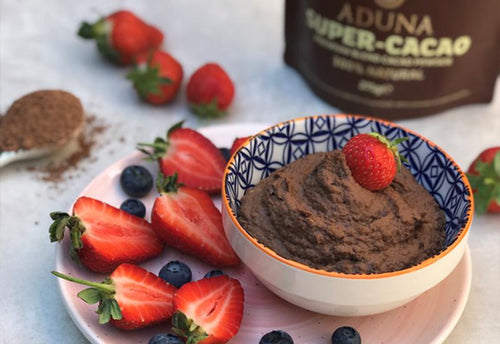 Chocolate & Tahini Hummus
Trust us when we say this cacaolicious twist on the traditional hummus recipe does not disappoint! Packed with protein-rich chickpeas and our nutritious Super-Cacao Powder, this quick & easy recipe will soon have you hooked. We like it with a selection of fruits or generously spread over our toast - simply delicious!
Ingredients:
2 tbsp Aduna Super-Cacao Powder
1 can cooked chickpeas, rinsed & drained
1 banana, ripe
2 tbsp Tahini
1 tbsp water
1/4 tsp salt
2 tbsp maple syrup (optional - adjust to your preferred sweetness)
Method:
Simply place all the ingredients in a food processor and blend until smooth and creamy, scraping down the sides as necessary. Taste and adjust the sweetness to your liking and continue blending until the hummus reaches your desired consistency.
Store in an airtight container in the fridge for up to 3 days.
Enjoy!
Recipe by Nourishing Amy