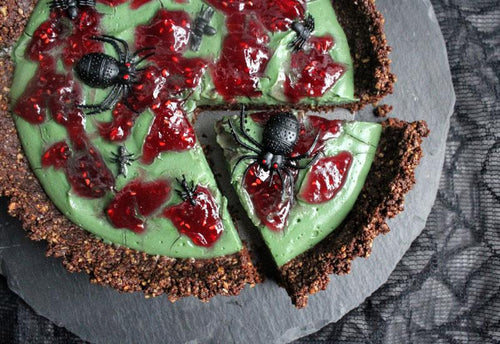 Gruesome Halloween Tart
This delicious but scary tart is an essential for any party this Halloween and is a great recipe to get the kids involved in making. A no-bake case with a gruesome green and bloody filling, try a slice if you dare!
Ingredients:
For the base:
2 tsp Aduna Baobab Powder
3 tbsp Aduna Super-Cacao Powder
200g oaty biscuits (low sugar / gluten-free ones)
2 tbsp coconut oil, melted
4 tbsp maple syrup
2 tbsp tahini or almond butter
For the filling:
2 tbsp cornflour
200ml milk
250g thick natural yogurt
3 tbsp maple syrup
2 tsp superfood green powder (like Aduna Moringa Powder)
1 tsp vanilla extract
5 tbsp no added/reduced sugar raspberry or strawberry jam
Method:
First make the base - place the biscuits into a food processor and whizz up until broken down into crumbs. Then add the rest of the ingredients and pulse so the mixture comes together.

Tip out the mixture into a 20cm loose-bottomed tart tin and use your fingers to press across the bottom evenly and up the sides to cover. Chill in the fridge for at least 30 minutes.

To make the filling, mix the cornflour with 3 tablespoons of water to form a paste. Heat the milk up in a small saucepan then whisk in the cornflour mixture and cook on a medium heat for a few minutes until thickened. Leave to cool then place in a blender along with the yogurt, maple syrup, green powder and vanilla. Blend until thick and smooth.

Spoon this into your tart base to fill and smooth out evenly. Spoon the jam on top in different places and swirl a little. Place back in the fridge for at least 1 hour to chill and set.
When ready to serve remove from the tin, add any extra spooky decorations, slice and serve.
Enjoy!
Recipe by SpamellaB