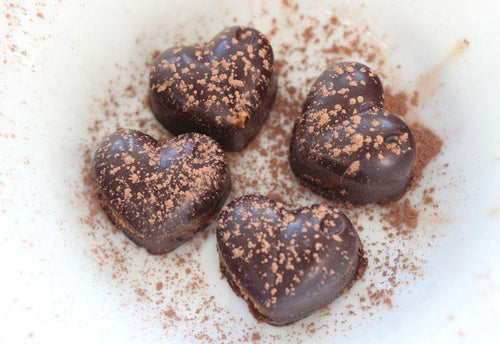 Healthy Homemade Chocolate Caramels
These chocolate hearts literally melt in your mouth and are the perfect treat to make for a loved one (or yourself!) on Valentine's day. Think rolos - but better (and much healthier!) Raw, vegan, refined sugar free and extremely moreish, they're guaranteed to satisfy your sweet tooth. 
Makes 22 chocolates 
Ingredients: 
For the chocolate:
2 1/2 tbsp Aduna Super-Cacao powder
1/2 cup cacao butter
3 tbsp maple syrup
1/2 tsp cinnamon
pinch pink salt
For the caramel filling:
1/2 cup medjool dates
1/4 cup cashew milk
1/4 cup cashew butter
1/2 tsp lucuma or maca powder
Method:
First place your silicon moulds in the freezer to chill.
To make the chocolate, melt the cacao butter in a saucepan over a low heat, stirring continuously. Once melted, remove from the heat and stir in the rest of the ingredients, making sure you sieve the cacao powder to ensure that there are no lumps. Stir the mixture until everything is fully combined. 
Remove the moulds from the freezer and spoon the chocolate mixture in until they are about 1/3 full, then place them back in the freezer to set.
Whilst the chocolate sets, make the caramel filling by chopping up the dates and soaking them in boiling water for around 10-15 minutes. After 15 minutes, drain them and add them to a blender with the rest of the ingredients. Process until you reach a smooth, sticky consistency.  
Remove the chocolate moulds from the freezer and carefully spoon about half a teaspoon of the caramel filling into the middle so that they are about 2/3 full, but try to avoid it going into the edges. Finally, pour the rest of the melted chocolate over the filling so that the moulds are full and the caramel is completely covered. Place back in the freezer to set for around 1 hour. 
Once they are completely set, gently pop the chocolates out of the moulds and devour! Store in the fridge or freezer in an airtight container. 
Enjoy!
Recipe by Aduna