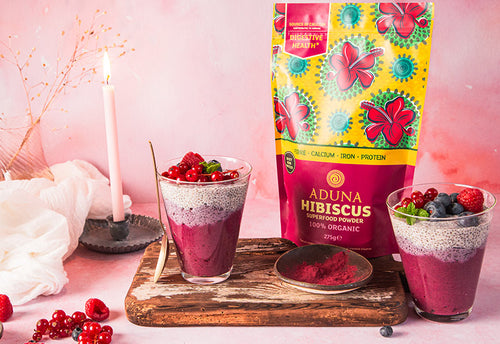 Hibiscus Chia Pudding
Treat your taste buds to this delicious Hibiscus Chia Pudding. Made with just 4 ingredients, it's the perfect nutrient-rich breakfast (or dessert) to super-charge your day!
Serves 2-4
Ingredients:
1 ½ tsp Aduna Hibiscus Powder
½ cup chia seeds
1 ½ cup soy milk or any plant based milk
1 tbsp agave syrup, or sweetener of your choice
To serve:
fresh fruit
granola
Method:
Mix the chia seeds, milk and agave syrup in a bowl and set aside for at least 30 minutes.
Divide the mixture into 3 bowls. In bowl one, mix in 1 tsp of hibiscus powder. In bowl two, mix in ½ tsp of hibiscus powder and leave bowl three as it is.
Divide the mixture from bowl one into your serving dishes/glasses, then pour the mixture from bowl two over the first layer. Lastly, divide bowl three over the second layer.
Set aside for at least 30 minutes or refrigerate overnight.
Serve with your favourite toppings.
Enjoy!