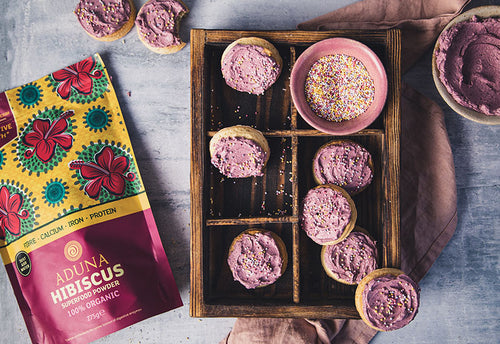 Vegan Hibiscus Cookies
Nothing beats the taste of freshly baked cookies - especially when they're topped with hibiscus buttercream. Classic comfort food with a superfood twist. Enjoy these with a cup of our Super-Teas for the perfect afternoon or evening treat!
Makes 10-12 
Ingredients:
For the cookies:
2 cups flour
2-4 tbsp of cold water
200g vegan butter, cold
100g sugar
1tsp baking powder
1 tsp vanilla extract
Pinch of salt


For the buttercream icing:
50g icing sugar
50ml plant based milk


Method:
Place all the cookie dough ingredients in a food processor and pulse until it resembles crumbs.
Start adding water one tbsp at a time and pulsing a couple of times until dough sticks well together. If it is to dry, just add some a little more water. Once it is the right consistency, shape the dough into a disk.
Preheat the oven to 180 degrees.
Between 2 pieces of parchment paper, roll the dough to 3-4 inches thickness and then cut into shapes using your favourite cookie cutter shapes.
Bake for 12-15 min or until golden brown on the edges. Once baked, leave to cool on the pan.
While the cookies are baking, using a stand mixer on the highest speed, mix the butter with sugar until fluffy - this will probably take around 7-10 min. Then add the milk and hibiscus powder. Mix until well incorporated.
Once the cookies are cooled, spread the purple icing on each cookie.
Enjoy!