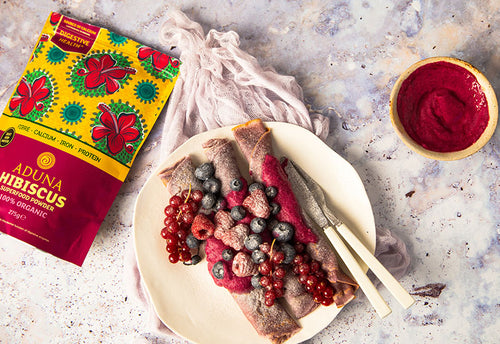 Hibiscus Crepes with Coconut & Hibiscus Sauce
Try these soft & sweet vegan crepes topped with a tangy hibiscus sauce and fresh fruit. Delicious and easy to make - trust us when we say, they're flippin' good. Oh and did we mention they're free from refined sugar - winning!
Serves 2-4
Ingredients:
For the crepes:
1 cup flour
2 cups plant milk
1 tbsp maple syrup
3 tbsp melted coconut oil, 1 tbsp for frying


For the hibiscus sauce:
100 ml coconut yoghurt
½ tsp vanilla extract
2 tsp maple syrup


Method:
Put all crepes ingredients into a blender and mix until everything is well combined. Set aside for 5 min before frying.
Heat a little coconut oil in a frying pan over medium heat. Pour ¼ cup of batter on the pan at a time, tilting the pan with a circular motion so that the batter coats the surface evenly.
Fry the crepes for a couple of minutes on both sides.
For the sauce, simply mix the sauce ingredients into a small bowl. Serve crepes hot, drizzled with the hibiscus sauce and some of your favourite toppings.
Enjoy!