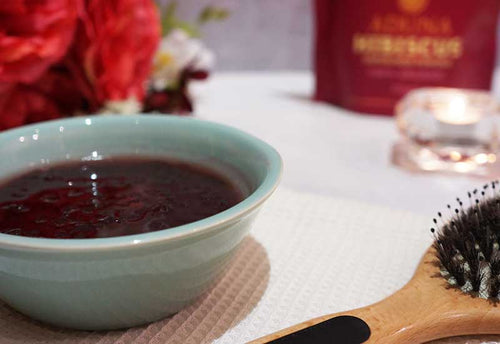 Hibiscus Hair Mask
Known for its amazing hair benefits, hibiscus is the must-have superfood for all your DIY pampering sessions. Treat yourself to this natural deep conditioning mask - made with a few simple ingredients, for maximum gains... Nourished, shiny and strong hair? Yes please!
Hibiscus - antioxidant rich and a source of iron and protein, promoting hair growth, helping to prevent hair loss, reduces frizz, thickens hair...the list goes on.
Banana - high in potassium, vitamin B6 and magnesium, which helps to soften the hair and prevent breakage.
Coconut Oil - rich in lauric acid, which makes it great for fighting frizz and adds instant lustre and shine to hair.
Lemon Juice - vitamin-C rich, which boosts collagen production essential for hair growth and due to its antifungal properties, maintains scalp health.
Tea Tree Oil - has anti-fungal, anti-bacterial, anti-inflammatory and anti-oxidant properties, making it great for your scalp and hair.
Lavender Oil - is antiseptic and antimicrobial, helping to prevent scalp bacteria and improves blood circulation in your scalp which supports hair growth.
Aloe Vera Gel - locks in moisture and relieves itchy scalp 
INGREDIENTS:
2 tbsps Aduna Hibiscus Powder
1 medium ripe banana
⅓ cup coconut oil, melted
1 tbsp lemon juice or ½ fresh lemon, squeezed
2-3 drops of tea tree or lavender oil

Optional:
2 tbsps aloe vera gel


METHOD:
Add all ingredients into a blender and process until thick and creamy.
Wash your hair with your favourite shampoo. Apply the mask evenly through damp hair from roots to end.
Leave the mask on for at least 30-60mins.
Rinse your hair thoroughly.
Enjoy! 
Recipe by Aduna