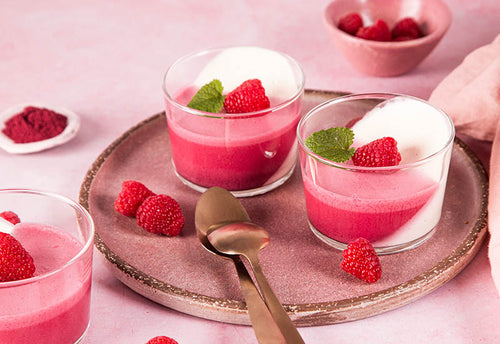 Hibiscus Panna Cotta
How dreamy does this vegan Hibiscus Panna Cotta look and sound? Deliciously creamy and free from refined sugar, this dessert will surely be a crowd pleaser.
Serves 6-8
Ingredients:
1 tbsp Aduna Hibiscus Powder
400 ml coconut cream
400 ml coconut yogurt
3 tbsp of agave syrup
4 tbsp of agar agar powder (check the product instructions as it might differ between brands)
1 tsp vanilla extract
To serve (optional):
Raspberries
Method:
Add the following into a saucepan over medium heat: half of coconut cream, half of coconut yogurt, half of agar agar, vanilla extract and half portion of agave syrup. Stir well and bring it to a boil.
Once the mixture starts boiling, simmer for 2-3 min. The agar agar needs to dissolve, and can only dissolve while boiling to activate the setting properties.
Allow the liquids to cool for 10 min before dividing the mixture into 6-8 glass ramekins. Tilt the glasses using a muffin tin to keep them in place - this will create a nice pattern.
Refrigerate for 30 min or until the mixture has set.
Prepare the hibiscus layer by mixing the remaining ingredients including hibiscus powder in a saucepan over medium heat. Bring to boil and allow to simmer for 2-3 mins, ensuring the agar agar has dissolved.
Leave to cool for 10 mins before pouring the mixture over the white panna cotta layer in the ramekins.
Refrigerate for a minimum of 4 hours or leave it overnight until fully set. 
Top with fresh raspberries before serving.
Enjoy!