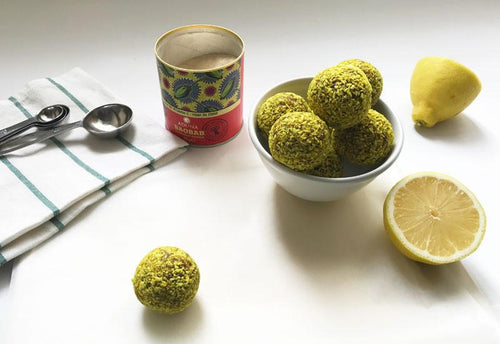 Lemon & Baobab Bliss Balls
Light, zesty and refreshing, these vegan lemon and baobab bliss balls are so easy to make and are the perfect on-the-go snack. Free from refined sugar, packed with antioxidants and full of fibre, they're guaranteed to curb any sugar cravings and keep you satisfied until your next meal. 

Makes 9 40g balls
Ingredients:
1 tbsp Aduna Baobab Powder
1 cup cashew nuts
1 cup desiccated coconut
1 cup dates
1 tbsp chia seeds
1 tsp turmeric powder
up to 2 tbsp of lemon juice
zest of 1 lemon 
Method:
Mix through 1/2 a cup of of desiccated coconut with the turmeric powder and set aside. The longer this has to develop the brighter it will be!


Add the rest of the coconut, cashews, chia seeds and baobab to a food processor and blitz to a fine crumb. Then add the dates, lemon zest and 1 tbsp of lemon juice and blitz again until sticky enough to roll. Only add the second tbsp of lemon juice if necessary.


Sprinkle your turmeric coconut onto a chopping board and begin to create balls from the mixture. Roll around the board and in your hands to coat them in the golden sprinkles. 


Chill for at least 30 minutes. 

Enjoy!