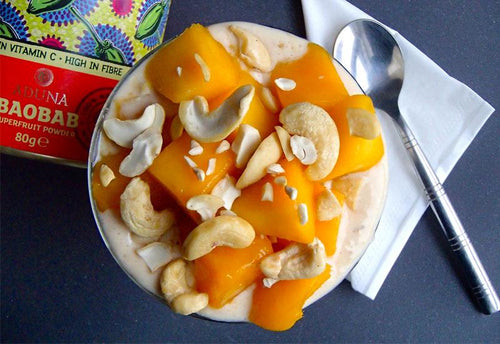 Mango & Baobab Overnight Oats
A nutritious breakfast doesn't have to be complicated. Made from 5 simple ingredients, this delicious bowl of mango & baobab overnight oats is packed full of vitamin C, fibre and antioxidants. A tropical paradise! 
Serves 1
INGREDIENTS: 
2 tsp Aduna Baobab Powder
1 cup frozen mango
1/2 cup oats
1 cup almond milk
1 tbsp unsalted cashews, chopped 
METHOD: 
Place all the ingredients (except the cashews) in a bowl and mix well. Cover and refrigerate overnight.

Stir well before serving and top with cashews. 
Enjoy!
Recipe by Skating Tomato