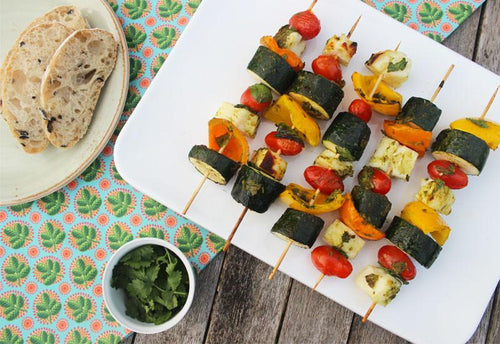 Marinated Vegetable Skewers
There's nothing better than a summer BBQ with a vibrant spread to choose from. Coated in a delicious moringa marinade, these vegetable skewers are perfect if you are catering for any non-meat eaters and can be easily made vegan. Serve with a big summer salad or as part of a large spread.    
Makes 5 skewers 
Ingredients:
For the marinade: 
2 tsp Aduna Moringa Powder
1 handful fresh coriander
1 handful fresh mint
1 garlic clove, roughly chopped 
2 spring onions, roughly chopped 
1/2 tsp chilli flakes
juice of 1 lemon 
olive oil
salt + pepper, to taste 
For the skewers:
2 courgettes
2 peppers
200g halloumi 
10 cherry tomatoes 
fresh basil leaves
Method:
Start by making the marinade - place all the ingredients except the olive oil in a food processor and blend until everything is combined. Transfer to a bowl and set aside whilst you make the skewers. 
For the skewers, chop the vegetables and halloumi into large chunks and assemble onto the skewer sticks. Coat evenly with olive oil, then thoroughly brush the marinade over each skewer until everything is coated. 
Place the skewers under the grill or on the barbecue and cook until the vegetables are charred and slightly soft, turning every few minutes. 
Enjoy!
Recipe by Aduna