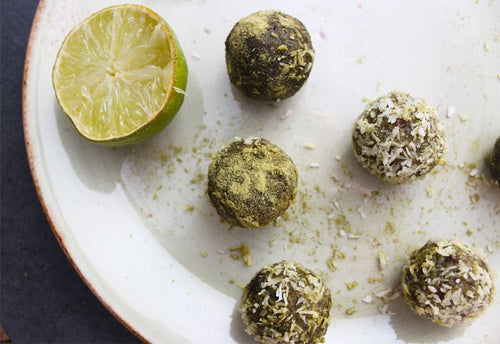 Moringa, Coconut & Lime Energy Balls
Move over matcha, there's a new green on the scene and it goes by the name of moringa! Fresh, zesty and packed full of goodness, these little bites of heaven are the perfect way to get your moringa fix whilst satisfying any sweet cravings. 
Makes 12-14 balls 
Ingredients:
2 heaped tsp Aduna Moringa Powder 
100g unsalted cashews
150g pumpkin seeds 
1 1/2 tbsp coconut oil, melted
zest & juice of 1 small lime
200g Medjool dates, pitted & roughly chopped 
desiccated coconut, to roll 
Method:
Pulse the nuts and seeds in a food processor for a minute until they are slightly broken down. Add the rest of the ingredients and blend well until everything is fully combined.
Shape the mixture into balls and roll them in desiccated coconut before placing in the fridge. Leave to set for an hour. 
These will keep in the fridge for 2 weeks.
Enjoy!
Recipe by Aduna