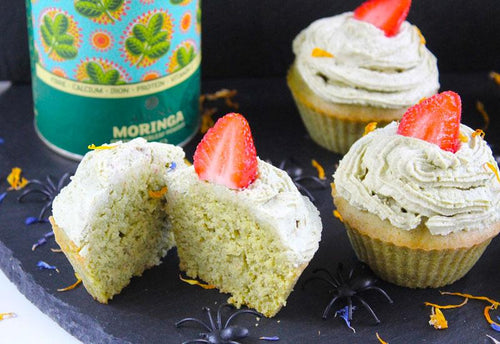 Moringa Halloween Cupcakes
If you can't eat green cupcakes at Halloween when can you?! The moringa gives these gluten free, low FODMAP and refined sugar free cupcakes a beautiful natural green colour, but don't be spooked - they still taste delicious! 

Serves 12
Ingredients:
For the cakes:
4 tsp Aduna Moringa Powder
120g rice flour
150g ground almonds
2 tsp gluten free baking powder
170g melted coconut oil
150ml maple syrup
3 large eggs
160ml unsweetened almond milk
1 tsp vanilla extract

For the frosting:
2 tsp Aduna Moringa Powder
2 x tins of full fat coconut milk (chilled overnight)
1 tbsp maple syrup
1 tsp vanilla extract
juice 1 lime
6 strawberries, halved
Method:
Preheat the oven to 170°C and line a 12-hole cupcake tray with cupcake cases (I use silicone cases).

To make the cupcakes, combine the rice flour, ground almonds, baking powder and moringa powder in a large mixing bowl. Add the coconut oil, maple syrup, eggs, almond milk and vanilla to a blender or food processor and pulse 4 times. 
Pour the wet ingredients into the dry ingredients and mix thoroughly. Spoon the batter evenly into the prepared cupcake cases. Bake in the oven for 25 minutes or until a skewer or knife comes out clean.
To make the frosting, remove the thick top layer of each tin of coconut milk (the cream) and place it in a large bowl. Whisk for 1-2 minutes until thick and creamy. Add the maple syrup, moringa, vanilla and lime juice before whisking again for a further minute. 
Leave the cupcakes to cool in the tray for 15 minutes before placing them on a cooling rack (remove the silicone cases now if using).

Pipe or spread the frosting onto each cooled cupcake and decorate with strawberries. 
Enjoy!

Recipe by Nutritiously Naughty