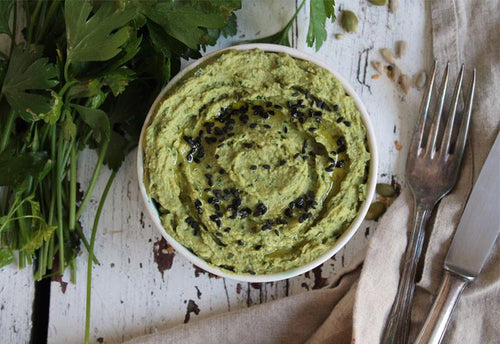 Moringa & Kale Houmous
This hearty houmous boasts a nutritional boost from both the vitamin-rich kale and the protein packed moringa and chickpeas. It's quick and easy to make and a great way to use moringa. Perfect for dipping crudités, vegetable crisps and seeded crackers as a snack or even as part of a Middle Eastern inspired feast. 
Ingredients: 
1 tbsp of Aduna Moringa Powder
1 can cooked chickpeas, rinsed & drained
1 cup cooked peas
1 handful kale, stalks removed
1 garlic clove
1 heaped tbsp tahini
juice of 1/2 lemon
salt & pepper, to taste
3/4 tbsp water or olive oil 
Method:
Simply place all the ingredients into a food processor and blitz until smooth and creamy and add the water (or oil) gradually while the food processor is on until the hummus reaches your desired consistency. 
Store in the an air tight container in the fridge for up to 5 days.
Enjoy!
Recipe by Happy Skin Kitchen