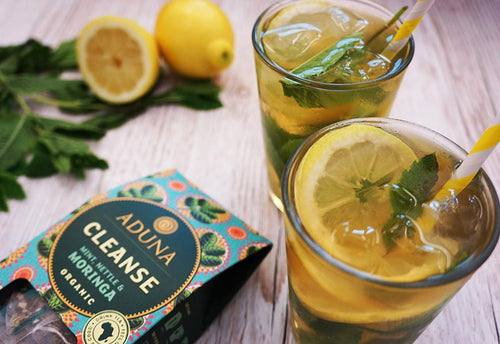 Moringa, Mint & Lemon Iced Tea
Enjoy our Cleanse Super-Tea on ice - a super cleansing brew with t
he addition of lemon and mint adding a refreshing flavour, perfect for a summer's day!
Makes 1 litre
Ingredients:
2 pyramids of Aduna Cleanse: Moringa Super Tea
200ml freshly boiled water
800ml cold water
1 lemon, sliced
handful of mint leaves
To serve:
ice cubes
Method:
Pour boiling water over the tea pyramids, slices of lemon and mint leaves in a heatproof jug and allow them to brew for at least 10 minutes. Remove the tea pyramids, stir and allow the tea to cool before topping up with cold water.
To serve, add ice cubes.
Enjoy!