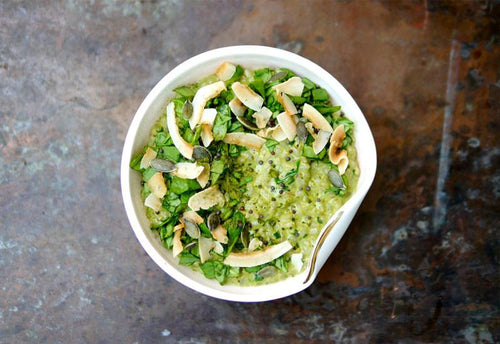 Moringa Rice Porridge
Switch up your everyday porridge routine for this super-green bowl of savoury rice porridge. Deliciously creamy from the coconut and packed full of nutrients thanks to our miracle superleaf, it's the perfect way to sneak those greens in whilst not losing out on taste.  
Serves 2
Ingredients:  
1 tsp Aduna Moringa Powder
2 cups pre-cooked short grain brown rice
1 cup coconut cream
splash of water
1-2 small cloves garlic, finely chopped
generous pinch sea salt
cracked black pepper
2 small handfuls spinach, chopped

To serve:
toasted coconut flakes
chopped spinach
pumpkin seeds
poppy seeds
Method: 
Place the rice, coconut cream, water, garlic and moringa in a small saucepan. 
Heat on a medium flame, stirring occasionally, until gently bubbling. 
Add the chopped spinach and stir to combine.
Season to taste.
Cook until piping hot.
Garnish and serve.
Enjoy!
Recipe by Fodder + Plonk