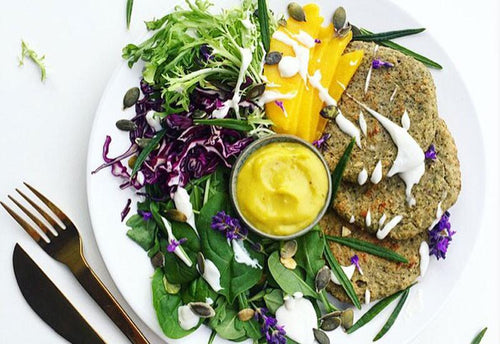 Moringa & Zucchini Fritters with Avocado-Mango Dip
These tasty, super-charged fritters by Aduna Feel Good Triber Kaja are packed full of green goodness, healthy fats & plant protein. Perfect for a quick weeknight meal, they also taste delicious cold with lots of salad for a nutritious lunch box. 
Serves 2
Ingredients:
For the fritters:
2 tbsp Aduna Moringa Powder 
1 zucchini
1/2 red onion
1 cup buckwheat flour
1/2 cup pumpkin seeds
1/2 tsp paprika powder
1/2 tsp chilli flakes
1/2 tsp ground cumin 
black pepper (to taste)
pink Himalayan salt (to taste) 

For the dip:
1/2 avocado
1/2 mango
2 tbsp sesame oil 
1 tbsp maple syrup 
1/2 tsp chilli flakes
pink Himalayan salt (to taste) 

To serve (optional): 
handful of spinach
handful of rocket
handful of purple cabbage 
1/4 mango
handful of pumpkin seeds

Method: 
Preheat the oven to 220C.
Place the pumpkin seeds in a food processor and pulse until a flour-like consistency. Transfer this mix to a bowl. 
Chop the zucchini into small pieces and place it in a food processor together with the red onion and process until smooth.
Transfer the zucchini mixture to a bowl and stir in the pumpkin seed flour, buckwheat flour, moringa powder, paprika, black pepper, salt, chilli flakes and cumin until fully combined. 
Use your hands to form the mixture into flattened, circular fritters then place them on a baking tray lined with baking paper. (Your hands should be wet for this as the mixture is quite sticky). 
Bake for 10 minutes, then remove from the oven, flip them over and bake for another 10 minutes or until golden brown.
To make the dip, place all the ingredients in a food processor and blend until smooth. Refrigerate until ready to serve.  
Enjoy! 
Recipe by kajaand