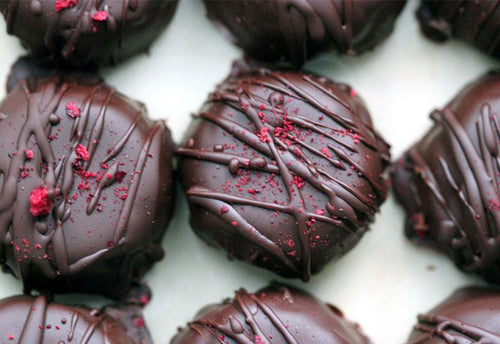 Raspberry Coconut Chocolates
These delicious, raw dark chocolates created by Aduna Feel Good Triber, Leitchy Creates, were inspired by an after school childhood treat from Thortons. Filled with coconut and raspberry mousse and coated with chocolate and freeze dried raspberries, they're perfect for celebrations or to give as gifts. Better yet, they're vegan, which means no one has to miss out on these cacaolicious treats. 
Makes 21
Ingredients:
For the filling:
200g desiccated coconut
115g creamed coconut 
30g maple syrup
15g date syrup
110g frozen raspberries
1/2 tsp vanilla extract
For the chocolate:
150g Aduna Super-Cacao Powder
250g cacao butter
150g powdered coconut sugar
Toppings: (optional)
Freeze dried berries
Method:
In a high speed blender, combine all the ingredients for the filling. Use a tamper tool if possible to push everything down and keep the ingredients moving whilst on a high speed. Once combined, the mixture should be light pink, thick and smooth like buttercream. 
Then use a teaspoon to pack the mixture into the moulds of a silicone cupcake tray. Fill each one to the top and smooth over with the back of a spoon. Keep going until you run out of mixture - the amount will vary depending on the size of your moulds. Pop in the freezer to set and once set you can start preparing the chocolate. 
Line a baking tray with baking parchment. Gently melt the cacao butter and sugar using a bain marie. Once melted transfer to a high speed blender and add the Super-Cacao powder. Mix well until it forms a smooth liquid chocolate*.
*If you want to temper the chocolate, which helps to create a smooth, glossy chocolate, return the mixture to the heat and use a thermometer to check the temperature until it reaches 42°C. Once at 42°C, remove the chocolate from the heat and transfer it to a large bowl, tempering it until you reach 31°C.
Use a fork to dip and cover each frozen cup in the chocolate, letting any excess chocolate drip off. Transfer to the lined baking tray and repeat until all the frozen cups are coated in chocolate.
Use a fork to drizzle lines across the top of each chocolate and decorate with your favourite toppings before returning them to the freezer to set. 
Once set, store in the fridge for 3 days or keep frozen for up to 3 months.
Enjoy!
Recipe by Leitchy Creates