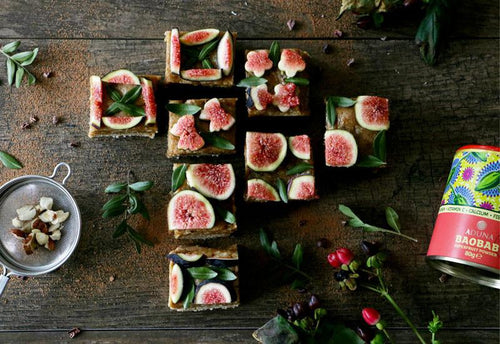 Raw Baobab & Fig Slices
Figs and baobab are a match made in heaven so when combined with other raw, natural ingredients they make the ultimate fruity snack. Raw, vegan and packed with vitamin C, these bite sized slices are dangerously moreish. 
Serves 6-8
Ingredients:
For the base: 
50g raw almonds
60g coconut flour
1 tsp vanilla essence
4 tbsp coconut oil
4 tbsp water
pinch of salt
For the coconut cashew layer:
1 tbsp Aduna Baobab Powder
60g desiccated coconut
150g soaked cashews 
3 tbsp coconut oil
150g dried figs
fresh figs
pinch of salt
Method:
To make the base, process the almonds in a blender until ground then add the rest of the ingredients and process again until well combined.
Transfer straight to a loaf tin lined with cling-film. Press the mixture firmly flat, then transfer to the freezer.
To make the coconut cashew layer, blend all ingredients in a food processor until well combined, scrape down the sides and repeat.
Remove the base from the freezer, add the cashew layer and spread out uniformly. Return to the freezer and freeze for minimum 2-4 hours.
Once completely set, remove from the tray and slice carefully into evenly sized pieces and top with fresh figs. Store in an air-tight container in the freezer.
 Enjoy!
Recipe by fresh.greens