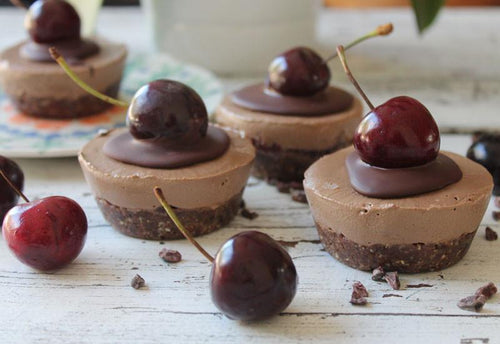 Raw Double Chocolate Black Forest Tartlets
With a crunchy nutty base, pieces of tangy cherry and a silky smooth layer of chocolate-cashew cream, these cacaolicious black forest tartlets by Aduna Feel Good Triber Elisa make the perfect indulgent treat or dessert. You would never even guess they are dairy, gluten and refined sugar free! 
Serves 9
Ingredients:
For the base:
2 tbsp Aduna Super-Cacao Powder
1 cup almonds 
6-7 Medjool dates, pitted 
2 tbsp coconut oil, melted 
splash of vanilla extract
For the cherry layer:
10-12 fresh cherries, pitted 
For the chocolate cream layer:
4 heaped tbsp Aduna Super-Cacao Powder
3/4 cup cashews, soaked overnight and drained
1 cup unsweetened almond milk
5-6 tbsp rice malt syrup
3 tbsp melted coconut oil
splash of vanilla extract
For the topping:
70g good quality dark chocolate
a few fresh cherries to decorate (optional)
Method: 
Start by making the base. In a food processor, blitz the almonds until they become a coarse flour then add the cacao powder and blitz again for few seconds. Next, add the dates, coconut oil and vanilla extract and blitz for a minute or so until you get a sticky mixture that can be compressed.
Lightly grease some muffin tins with coconut oil and using your hands, press down 2cm of mixture into each muffin tin. Place the tray in the freezer to set.
To make the cherry layer, simply chop the fresh cherries and place about one teaspoon of the chopped cherries in each muffin case. Spread them over the base mixture with the back of a spoon and place the tray back in the freezer.
To make the chocolate cream layer, place all the ingredients in a blender and blend for a good few minutes until everything is smooth and silky. Pour enough mixture on top of the base to fill up the muffin case. Place the tray back in the freezer to set for at least 3 hours. Remove the tarts from the freezer at least half an hour before serving.
For the topping, melt the dark chocolate using a bain-marie. Drizzle the melted chocolate on top of the tarts and decorate with the fresh cherries.
Store the tarts in an airtight container in the freezer for up to 4-5 days.
Enjoy!
Recipe by Happy Skin Kitchen