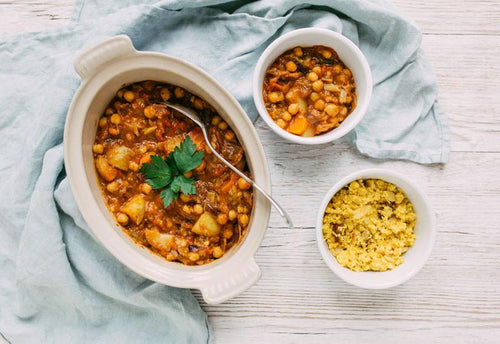 Roasted Vegetable & Chickpea Tagine
A warming delicious supper, this tagine recipe is packed full of flavour with a lovely hint of sweetness. Packing in a variety of different veggies and bursting with vitamin c, it's the perfect comforting meal that can be made in big batches and frozen for a later date.  
Serves 4-6
Ingredients: 
2 tsp Aduna Baobab Powder
1 carrot
350g new potatoes
1 fennel bulb
1 courgette 
1 red onion
400g can chickpeas, rinsed and drained
400g can chopped tomatoes
250ml vegetable stock
3 tbsp extra virgin olive oil 
zest and juice of 1 orange
8 dates
3 garlic cloves, crushed 
1 tsp cumin seeds
1 tsp ground coriander
1 tsp ground ginger
1 tsp ground turmeric
1 tsp ground cinnamon
1/2 tsp chilli powder
1/4 tsp ground nutmeg
1 tsp fennel seeds
couscous, to serve
1 tsp turmeric, to serve (stir into couscous)  
toasted flaked almonds, to serve
Method:
Heat the oven to 200C. Chop up the courgette, potatoes, fennel, carrot and onion and place them in a roasting tin with 2 tbsp of olive oil, the cumin, fennel and coriander seeds and salt and pepper. Stir well so everything is evenly coated and roast for 30-40 minutes, stirring half way through, until everything is cooked.
While this is cooking, heat a large pan over a medium heat and add 1 tbsp of olive oil. Add the garlic and the rest of the spices and fry for a few minutes before adding the tomatoes, chickpeas, vegetable stock, orange zest and juice and chopped dates. Bring to the boil and simmer while the vegetables roast. Once the vegetables are cooked, add them to the pan and simmer for a further 15-20 minutes. 
Turn off the heat and stir in the baobab powder. 
Serve over warm turmeric couscous scattered with toasted flaked almonds, if using.
Enjoy!
Recipe by Aduna