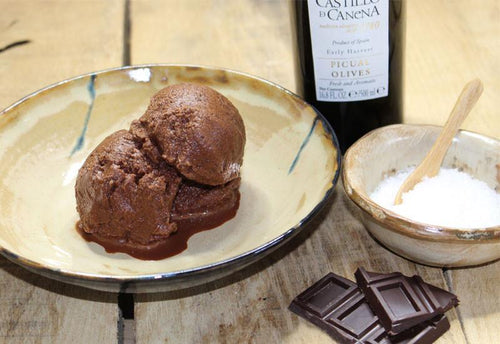 Salted Chocolate & Olive Oil Sorbet
Sorbet is a lovely, refreshing way to cool down on a hot day but it's also a great way to satisfy sweet cravings after meals without leaving you feeling bloated. This cacaolicious delight contains only few simple ingredients, making it the perfect thing to whip up for dessert when entertaining family or friends. 
Serves 4
Ingredients:
100g Aduna Super-Cacao Powder
100ml water
100g coconut sugar
100ml extra virgin olive oil
2 tsp sea salt flakes
2 tsp vanilla extract 
500ml water
Method:
Place the sugar and 100ml water in a pan and heat slowly to dissolve.
Once dissolved, add the cacao powder, whisking to remove any lumps. Add the salt and vanilla and whisk again to combine thoroughly.
Very slowly drizzle in the olive oil, whisking constantly to emulsify. Once completely emulsified, very slowly add the 500ml water, a drizzle at a time, whisking to ensure that the mixture does not split. Once combined, taste - the mixture should be quite strong as flavour will be lost as it freezes. Adjust accordingly.
Churn in an ice cream machine and freeze in a freezer proof container. 
Enjoy!
Recipe by Gourmet Glow