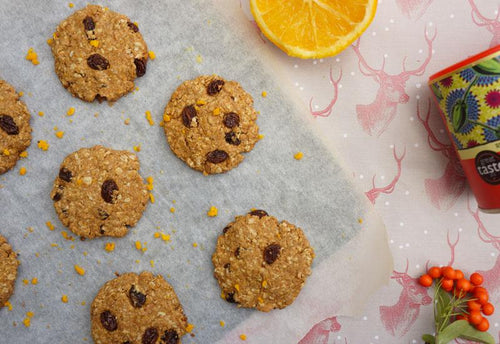 Spiced Orange & Baobab Christmas Cookies
Nothing says Christmas like festive spices cinnamon, nutmeg and ginger. Vegan and refined sugar free, these tasty, flavoursome cookies will leave your kitchen smelling heavenly. 
Serves 12
Ingredients: 
1 tbsp Aduna Baobab Powder
2 tbsp almond milk
3 tbsp coconut oil, melted 
1⁄4 cup coconut sugar
1/2 tsp orange extract
1 ⁄2 tsp vanilla extract
zest from 1 orange
3⁄4 cup rolled oats 
1⁄3 cup wholemeal flour
1⁄2 cup raisins
1 tsp ground cinnamon
1 tsp ground ginger
1/2 tsp ground nutmeg
1⁄4 tsp baking powder
large pinch salt 
Method:
Preheat the oven to 180°C and line a baking tray with grease-proof paper.
Place the milk, oil, sugar, orange zest, vanilla extract and orange extract in a bowl and whisk together until combined.  
In a separate bowl, mix together the oats, flour, baobab, spices, baking powder and salt. Tip into the wet ingredients and mix until fully combined. Stir in the raisins.
Using your hands, shape the mixture into balls and place on the baking tray. Press down to form cookie shapes and bake for 12-15 minutes. 
Transfer to a wire rack to cool. Store in an airtight container for a week. 
Enjoy!
Recipe by Aduna