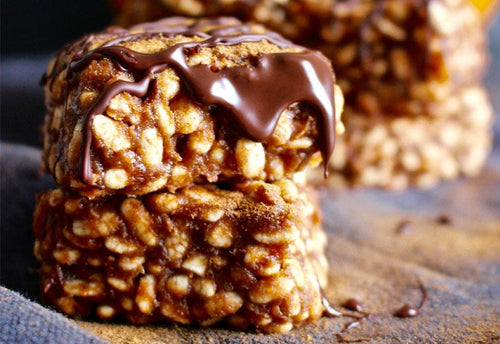 Spiced Puffed Rice Bars
Spiced, chewy and delicious, these puffed rice bars are the perfect afternoon treat. A healthy take on a traditional rice crispy bar, they are a great refined-sugar-free snack to make for your kids.   
Makes 10-12 bars 
Ingredients:
1 tbsp Aduna Super-Cacao Powder
1/2 cup pumpkin purée
150g pitted dates
1/2 tsp nutmeg
1 tsp cinnamon
1 tbsp peanut butter
60ml agave nectar
pinch Himalayan salt
150g gluten-free puffed rice
100ml coconut milk
100g dark chocolate
Method: 
Place all the ingredients except the puffed rice into a powerful food processor and blend until everything is combined.  

Transfer the mixture to a bowl and stir in the puffed rice. Make sure all the rice is covered with the mixture then transfer to a lined baking tray. 

Place in the fridge to set for a few hours or overnight. Drizzle with melted dark chocolate and slice into squares.
Enjoy!
Recipe by thehealthybeard