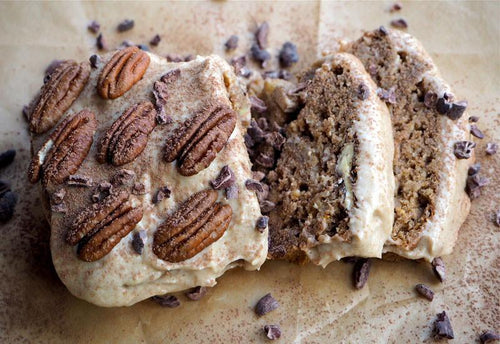 Spiced Spelt Plantain Loaf
This rich and nutty loaf is packed with natural sweetness and full of goodness, making it the perfect accompaniment to a cup of afternoon tea or coffee. We love ours coated in icing with an extra sprinkling of pecans and Super-Cacao for added flavour. 
INGREDIENTS:
For the cake:
3 tbsp Aduna Super-Cacao Powder 
1 1/2 cups spelt flour 
1/2 cup oat flour
3/4 cup pecans 
3 Medjool dates, pitted 
1 ripe banana
1 plantain
1/4 tsp pink Himalayan salt
1 1/2 tsp baking soda
1 cup homemade golden almond mylk (soaked almonds blended with fresh turmeric, ginger, spices and 2 Medjool dates then strained)
1 tsp vanilla extract
1 tsp coconut oil
For the icing:
handful of cashew nuts
2 Medjool dates, pitted
1-2 tsp water
METHOD:
Preheat the oven to 200C and start by making the oat flour. To do this, simply place the oats in a food processor and process until a flour like consistency forms. Transfer to a bowl. 
Add the rest of the dry ingredients to the bowl (spelt flour, pecans, the spices, baking soda and pink salt) and mix well, making sure the pecans are coated nicely. This ensures that they don't sink to the bottom once you add the wet ingredients.
Chop up the plantain, banana and dates and add them to a blender along with the golden mylk and cacao powder. Blend until smooth and creamy and pour over the dry ingredients, mixing well until fully combined. 
Grease and line a loaf tin (roughly 400g) with coconut oil so the batter doesn't stick to the sides and pour the mixture into the tin. Bake for 30 minutes.
Once cooked, allow to cool down for about 5-10 minutes and top with an extra sprinkle of cacao powder. 
To make the cashew and date icing simply add 2 dates and a handful of cashews into a blender along with 1 tsp of water. Blend the mix until smooth, spread over the loaf and refrigerate.
Enjoy!
Recipe by LIFEINSATIABLE