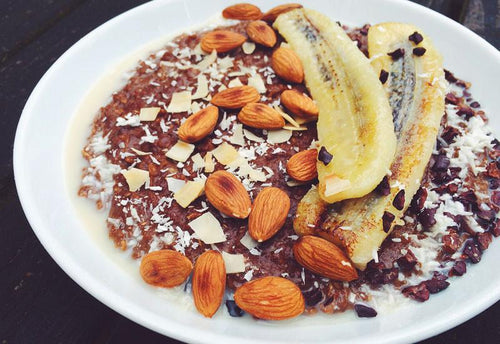 Mocha Coconut Porridge
There's nothing better than a big bowl of porridge to fuel you for the day ahead and this creation by Aduna Feel Good Triber Rebecca combines three classics - chocolate, coffee and coconut...yum! With two added doses of our super-ingredients, it's also full of health and beauty benefits. 
Serves 1-2
Ingredients: 
2 tbsp Aduna Super-Cacao Powder
2 tsp Aduna Baobab Powder
1 cup coconut milk
1 tbsp coconut oil
1 tbsp instant coffee 
2 tbsp date nectar (or maple syrup/agave nectar)
2-3 tbsp desiccated coconut
1/2 cup oats
1 tbsp chia seeds
2 tsp milled flax 
To serve (optional): 
1 banana
handful whole or flaked almonds
desiccated coconut or coconut chips
cacao nibs
Method:
Combine the coconut milk and coconut oil in a saucepan over medium-low heat. Whisk in the cacao until smooth. 
Next, add in the instant coffee powder and date nectar.
Add in the coconut, oats, chia seeds and flax, stirring well to mix everything together. Let it cook over low heat for 5-10 minutes, until the oats are your preferred consistency.
Stir frequently, adding a little extra water or milk if necessary to keep the porridge from getting too dry. Wait until the very end before adding the baobab and stir it in just before serving. 
While the oats are cooking, add a handful of whole or flaked almonds to a small pan over medium heat and let them toast, watching very carefully and stirring frequently to avoid burning. Once golden, set aside. 
In another small pan, melt 1 tsp of coconut oil and add your banana, sliced lengthwise. Fry over medium heat, flipping once or twice to keep from burning. Cook until both sides are golden. 
Spoon your porridge into 1 or 2 bowls, top with the fried banana and toasted almonds. If desired, pour over a little extra coconut milk and sprinkle with coconut and cacao nibs.
Enjoy!
Recipe by thezestylime