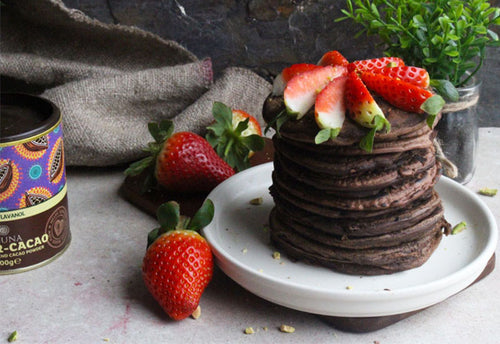 Super-Cacao Pancakes
There's nothing better than a giant stack of chocolate pancakes, especially when they're smothered in toppings! Every pancake is bursting with flavour thanks to the richness of the Super-Cacao powder, the freshness of the strawberries and the sweet drizzle of maple syrup which marries all the flavours together. Perfect for Pancake Day or simply as a delicious breakfast or dessert. 
Makes 6-8
INGREDIENTS:
1/4 cup Aduna Super-Cacao Powder
1 1/2 cup plant based milk
1 ripe avocado
1 cup gluten-free or regular plain flour
1 tsp vanilla extract
1 tsp baking powder
1/2 tsp bicarbonate soda
1 tsp coconut oil
1/4 cup almond flour
METHOD:
In your blender, process together all pancake ingredients apart from the
coconut oil.

Heat your frying pan on a medium heat and add the coconut oil. 

Pour the pancaked batter into 1/4 measuring cups. Pour the batter into pan and fry each pancake for 2 minutes on each side.

Place the pancakes on a serving plate and top with fresh fruit and drizzle with maple syrup.

Enjoy!
Recipe by Eat More Raw Foods