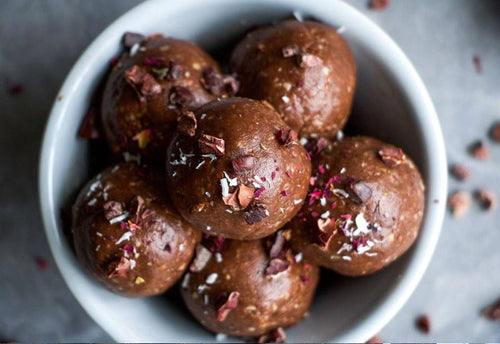 Super-Cacao Peanut Butter Protein Balls
Chocolate and peanut butter is one of our favourite combinations and these Super-Cacao Peanut Butter Protein Balls are exactly why! Delicious and packed with protein, vitamin E-rich almonds and a good dose of cacao love, they're the perfect on-the-go snack or for when those sweet cravings strike.
Makes 14-16
Ingredients:
3 tbsp Aduna Super-Cacao Powder
1/2 cup almonds
5 tbsp peanut butter
25g plant-based protein (Charley used an unflavoured protein blend)
4 tbsp brown rice syrup
1 tbsp coconut oil
Method:
Add the almonds into your food processor and process these for a few seconds to break them up slightly.
Add the remaining ingredients and process until everything is well combined.

Roll the mixture into balls and store in the fridge for a few hours to set.
Enjoy!
Recipe by Charley's Health