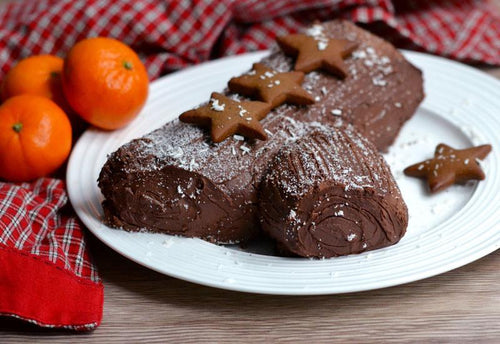 Super-Cacao Yule Log
Guaranteed to be a hit with the whole family, this Super-Cacao Yule Log is an essential on any Christmas menu! Although much lighter than the traditional version, with its fluffy sponge and coconut mousse filling, this recipe doesn't skimp on the chocolate flavour. Dairy-free, grain-free and paleo! 

Serves 10
Ingredients:
For yule log:
60g Aduna Aduna Super-Cacao Powder
6 eggs, separated
1 1/2 tsp vanilla extract
150g honey

For chocolate mousse filling:
2 tbsp Aduna Super-Cacao Powder
2x 160ml cans coconut cream OR cream removed from 2 x 400g cans refrigerated coconut milk
2 tbsp maple syrup
100g 70% dark chocolate, chopped
For chocolate ganache topping:
100g 70% dark chocolate, chopped
1/2 cup coconut milk (from a a can)
*I had too much batter for this size tin so made some mini Swiss rolls too. Feel free to use a larger tin or be prepared to have extra batter!
Method:
For yule log: Preheat oven to 160C (fan temperature) and line a Swiss roll tin (20cm x 30cm)* with parchment paper.
With an electric whisk, whisk the egg yolks with the vanilla extract and the honey until pale and creamy.
In a separate bowl, with clean beaters, whisk the egg whites into stiff peaks.
Sieve the cacao powder into the egg yolk mixture and whisk to combine. Then gently fold in the egg whites until no white lumps remain.
Pour evenly into tin and bake for 20 minutes.


For chocolate mousse filling: Using an electric or hand whisk, beat the coconut cream until fluffy.

Melt the dark chocolate in a bowl over a pan of boiling water and add to the whipped cream, along with the maple syrup. Mix gently to combine and refrigerate for 20 minutes to thicken. 
When cake has cooled completely, flip over and gently remove the parchment paper. Spread the mousse filling evenly over the cake and carefully roll up.


For chocolate ganache: Heat the coconut milk in a small pan, until steaming hot but not boiling.
Remove from the heat, add the chopped chocolate and stir to melt.

Leave for 15 minutes to thicken, until spreadable but not too runny or thick. 

Spread ganache evenly over the cake. For a log effect, cut off an end of the roll on a diagonal and stick to the side of the cake.

Use the tines of a fork to create a bark-like effect. Sprinkle with toasted coconut "snow" if desired. 
Enjoy!
Recipe by Aduna